Dream Believe Achieve: Devendra Jhajharia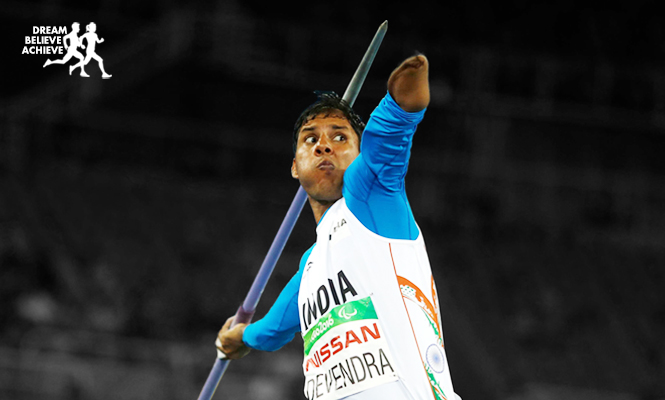 Devendra Jhajharia was born to a family of farmers in Churu, Rajasthan. Once, when he was 8 years old, he accidentally touched a live electric cable, while climbing a tree and lost his hand. A turning point in his life as his physical handicap seemed a deterrent to his mental strength.  Or so everyone thought; because the more he was laughed at or told he wasn't fit to play with his friends, the more he resolved to become a sportsman. A chance came in form of an Olympic sport — he saw a school-mate throw a javelin, attempted himself and managed to throw it at a longer distance; instantly knowing which sport he should concentrate.
"My first ever javelin was made by me," he informs, "from a bamboo stick and an old spearhead." Without any formal training he competed at the School and district level, competing against abled kids; and won! Devendra's family had no money to support his sport and neither did our country have any facilities for para-athletes, but he didn't give up! At the age of 14, Devendra competed in athletes with his home-made javelin and was crowned the district champion. In 2004, he got selected for his first Paralympic Games, representing India at Athens, and Devendra Jhajharia participated in his first ever international games! Coming from a poor background, he actually had his friends, family and coach come up with money for his plane tickets. At the games, his javelin soared high as he created a new world record of 62.15 meters! Although he is very proud of his achievement, he did feel a twinge of regret that not a single Indian media found his achievement worth a mention.  If that snub was not enough, 4 years later he encountered another disappointment — his category was taken off in the next Olympics! Soon thereafter, he suffered a knee injury so severe that experts opined he would never be able to play again!  But play he did! After waiting for nine long years, getting the better of his debilitating knee injury,
Devendra Jhajharia participated in the World Championships in 2013 and struck gold! Then, in 2016 at the Rio Para-Olympics, he won his second gold medal, at the age of 35, an age in where most athletes give up and retire. When he lost his hand, they said he was weak. When his category was ruled out they said his career was over.  When he injured his knee, they said he will never play again. But he beat the odds and is now training for the 2020 Olympics.
Team KheloMore wishes him all the best!