Best Football Academy In Pune- National Youth Football Academy
KheloMore gladly announces the first partnership in Pune with one of the best football academies in Pune, National Youth Football Academy. And what makes NYFA the best??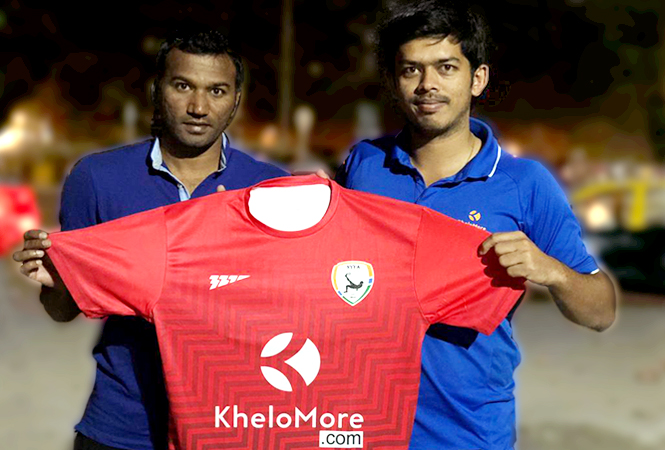 Well, for starters, it is founded and managed by two highly trained and qualified top-level coaches:
He has done the FIFA Youth Coaching Course in the year 2016. He is also an AFC C Licenced coach and, AIFF D Licensed coach who played for top teams that include Mumbai FC, Mumbai Tigers, Pune FC, Mahindra United, Churchill Brothers, and Air India. He has played football for 16 years which include playing for 10 Nationals.
He too boasts of a very strong background. He holds the AFC B License, AFC C License, AFC D License, and was also the head coach of the U-18 Maharashtra Team in 2017. He assisted the coach of Pride Sports Academy in Delhi, assisted the coach of Maharashtra State U-17 team in 2016 and also assisted the coach of Bharat FC Football Academy in 2016 and was also a head coach to the Pune Police Football Team 2016.
Started only two years ago with the beginners, advanced and the development batches, their development team already participates in the District Tournaments.
They aim to expand and inspire more children across Pune to play football.
With NYFA's partnership with KheloMore they will not only be able to reach their target sooner but KheloMore will also help National Youth Football Academy to elevate their players experience through value-added services like – players assessments, video analysis, more scheduled tournaments, International quality football equipment, and gears, branded kits for every footballer and periodic parent orientation.
"We started the Academy in 2014 with an objective of developing kids from grassroots level through qualified coaches. It is very important for kids to learn the right techniques; plus, we teach the tactical side of the game as well. Through this, we help them in participating in various tournaments where they get chances to show their talent and learn from the experiences," informs Sachin Badadhe.
"With our partnership with KheloMore, we will be able to develop the academy in a professional way with improved infrastructure and quality equipment to help players' performance and fitness," says Paresh Shivalkar, adding,  "The Coaches App on KheloMore helps us in player assessment, marking their attendance and profiling remarks. KheloMore is helping the Academy to grow in all ways."
Founder, Jatin Paranjape shares his thoughts on the partnership – In the last few years, India has been identified as a huge potential market for football that increases the scope of opportunities for Indians who are good at the sport. With this partnership with NYFA and many such academies across the country, we aim to reach out to the parents and the potential young athletes and give them instant access to the best sports coaches and academies through our website and app – KheloMore. With this partnership, we create a touchpoint in Pune which will showcase a fine range of services as per the International standards and discipline.
Here are the batch details for National Youth Football Academy if you are interested in enroling yourself.
Beginner boys  – monday to friday 5:00pm- 6:00 pm
Advanced boys – monday to friday 7:00 pm-8:00 pm
Advanced girls  – monday to friday 7:00 pm-8:00 pm
Development boys – monday to friday 6:00pm To 7:00pm
Development girls – monday to friday 6:00pm To 7:00pm
*Remarks
All new students will have to book the quarterly batch only. Each batch will be held for one hour.
Click on this link to book your batch now: NYFA