"Happy that he plays real sport and not a virtual one." Says Asawari Shirgaokar
Of all the love and adulation received by public figures, sport stars get the most. Right from small kids to senior citizens, men, women, rich, poor; everyone looks upon them as heroes.
And why not? They've, many a times, brought glory to their nations.
But these sport stars haven't become stars overnight, even if it always seems so. They've put in a lot of effort behind honing their skills, upping their games, training hard to strengthen their bodies, working hard on their nutrition and more often than not, having no personal life.
Of course, they do this with the help of a great team put together, over years of trials and errors, but they DO put in the effort. And most often this effort begins at a very young age, with the first people to arrange and organize all this teamwork happens to be just one person – the mother.
Being a mother is never easy, although no mother ever thinks that way; but being the mom of a sporty child, especially one who wants to play competitive sport and probably make a profession out of it, it is quite a super-human feat.
We've asked a sporty mom, Asawari Shirgaokar, whose son Arjun plays competitive tennis, her thoughts on having an extremely sporty child and how she manages it all!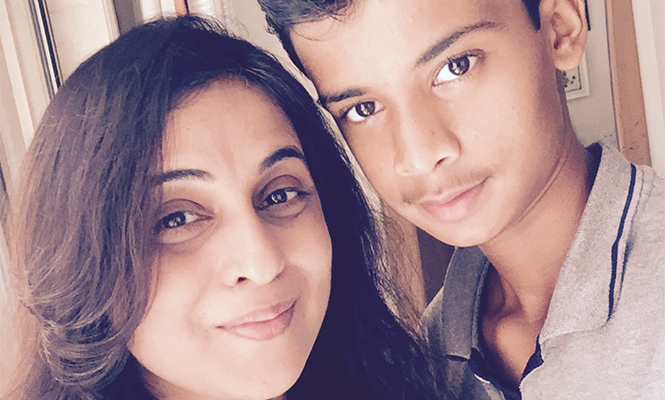 "Arjun is 14 now and has been playing tennis since the age of 8; having played squash for a year before. Coming from a very sporty background, his father, Niraj, used to play competitive squash for two decades and has represented the city, state and the country; Arjun is quite driven and very concerned about his performance. He spends at least two hours a day, five-times a week playing tennis and one hour, once a week in physical training.
"He himself wanted to play competitive tennis; having represented his school and won matches in the under-14 category. As his parent, I do my best to support him, encourage him, inspire him and motivate him. Add to that, I accompany him to almost all his tournaments to make sure his basic needs are taken care of; healthy, nutritious meals being most important here, of course, because that can literally make or break his day.
"Along with proper nutrition, I ensure that his fitness requirements are taken care of, another extremely important aspect… Yes, I have to ensure that the meals are well planned and ready on time, snacks organized and packed on time; else a hungry child ends up eating whatever junk that is available. And that simply cannot do!
"Yes, Arjun loves playing – come rain or shine, he wants to go out on the court, hence keeps looking for company to hit some balls. No, I don't think playing a sport takes away from his academics; on the contrary, he tends to retain his studies after the first reading and gets good marks. I think, playing refreshes his mind and helps him concentrate better.
"If you ask me, I am glad that he has chosen to play a sport. A physical sport. Instead of whiling his time on gadgets or in front of TV.
"I am glad that we got Arjun into playing a sport at a younger age; he will reap the benefits later in life; whether he makes it his profession or not. We, as parents hope that our younger child will also embrace sports in her life like her older brother."