Beginning of a new era of Indian Football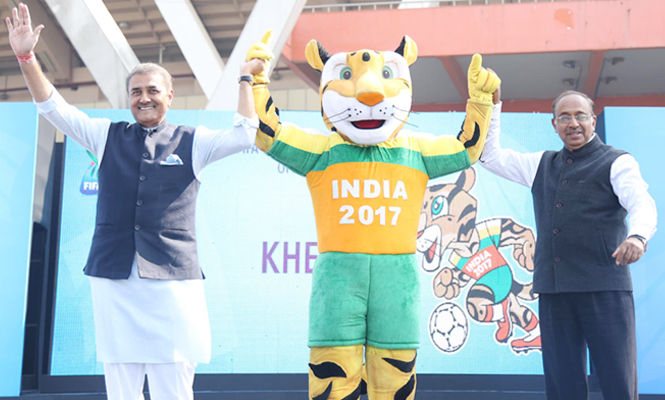 A viewership exceeding 3.5 billion people around the globe ,Football is the most watched sport. Fédération Internationale de Football Association popularly known as FIFA is playing a big role in promoting Football from younger age groups on the World Stage.
The FIFA U-17 World Cup, founded as the FIFA U-16 World Championship, later changed to its current name in 2007, is the world championship of association football for male players under the age of 17  organized by FIFA. The first edition was staged in 1985 in China, and tournaments have been played every two years since then. It began as a competition for players under the age of 16 with the age limit raised to 17 from the 1991 edition onwards. The most recent tournament was hosted by Chile and won by Nigeria, their next big edition FIFA are hosting their FIFA U17 World Cup 2017 in India, a country with over 1.3 billion in population and a cricket crazy culture. But India is no stranger to Football and its tournaments. Football is being played in India for more than 100 years now. Asia's oldest football club Mohun Bagan was founded in Kolkata in 1889 much before the emergence of Premier League giants Liverpool FC. Durand Cup which is played in India was started in the year 1888. It is the oldest football competition in Asia and the third oldest tournament in the world after FA Cup and Scottish Cup.
Coming back to the FIFA World Cup 2017 , Nigeria, the 2015 Champions, will not be able to defend their title as they failed to reach the final round of the CAF qualifying tournament. In doing so, they became the first incumbent title holder since Switzerland in 2009 to fail to qualify for the subsequent tournament. Nigeria is the most successful nation in the tournament's history, with five titles and three runners up. Brazil is the second-most successful with three titles and two runners-up. This year India will host 23 other countries from 6 confedreations.. Young footballers from around the world will go be aiming to show their worth to world football's elite. What makes this tournament really interesting is that fans from all over the world over will be hoping to spot some future stars, who could go on to enjoy illustrious careers in the sport. Current top players to have played in the U17 World cup are the likes of Xavi Hernandes , David Silva , Cesc Fabregas , Toni Kroos , Iker Casillas , Ronaldinho and Neymar of the many who is the world's most expensive footballer today.  It will definitely be a boost to Indian Football to have the biggest U17 Football Tournament here.
The Tournament begins on 6th of October 2017 and will be played till the 28th of October 2017 with the fianls at Salt Lake Stadium, Kolkata So lets take this opportunity to support these future stars and show them how crazy we are about football.
By Akash Wagh