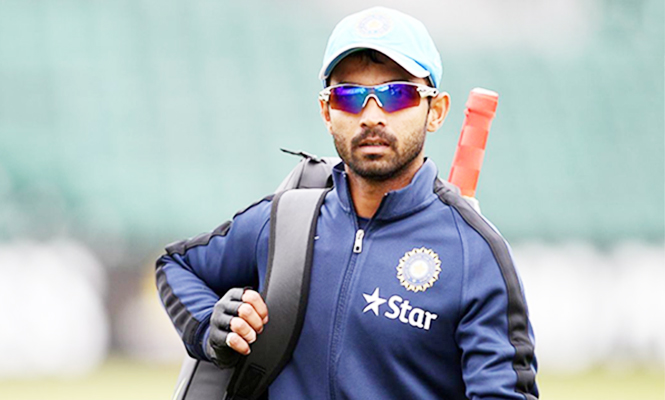 While Team India is preparing to meet the Aussies from sunday onwards, , Ujwal Deole, COO, KheloMore puts down his thoughts on one of India's most steadfast players, Ajinkya Rahane
Way back in late 90s, I believe it was the Australians who first started selecting a different team for ODIs and Tests. Gilchrist for example didn't feature in tests till Healy called it a day. Similarly, Mark Taylor played only tests and the ODI captaincy was given to Steve Waugh. From then on many teams started picking "Horses for Courses".  Many people got slotted in this deal. This included people right from Michael Bevan and Andrew Symonds to Eion Morgan and Cheteshwar Pujara.
In this context, the player at the crossroads here is Ajinkya Rahane. During his first couple of successful seasons in Test Cricket, Rahane demonstrated tremendous skill, poise and doggedness in his approach to batting. Simultaneously, he showed flamboyance and adaptability in shorter format during his stint with Rajasthan Royals. Add his fitness and fielding and it felt like Rahane is a man for all weather.  He kept doing well in Tests but interestingly has never had a great run in ODIs (barring a tour against West Indies). He has been pushed around from middle order to opener and that probably hasn't helped either. Dhoni has been vocal about his inability to rotate strike against spinners while others feel he doesn't have the 5th gear that is required in modern day ODIs. In this whole story, the good part is that he never went out of reckoning.
India is playing against Australia at home, starting few days from now. He is in the squad yet again. This time primarily a back up to Shikhar Dhawan and Rohit Sharma.  Pitches are going to be batting friendly and the games will be high scoring.  If Rahane gets a chance to open, this is his time to get some big runs, probably a last chance before he gets "slotted" like Pujara and Bevan got in their own respective formats.  How will he strike?