Liverpool vs Mancity Match to prove Iconic, Again!
After a 30 year long wait for Liverpool, false dawns and near misses and years of mediocrity, Liverpool's search for the most precious prize is finally over after being crowned the Premier League Champions for the 2020-2021 season. The achievement was even more prodigious given that Liverpool became the Premier League champions with seven games to play, a magnificent feat that has never been achieved in the history of the Premier League. After an unprecedented season which was on hold for nearly three months, Jurgen Klopp's men were able to finish off what he has been working towards for the last five years.
Liverpool were handed the title when Manchester City suffered a loss to Chelsea last Thursday, and it is to City that Liverpool travel to later in the evening today. Manchester City will show Liverpool great respect with a guard of honour before the game when the sides meet. Jurgen Klopp's men may have sealed the title before the ball is even kicked at Etihad, but today's Liverpool Vs Mancity game could give the winning side a psychological edge in the race for the title next season. Liverpool have been the best in the country by a million miles this season and they will want to show that yet again they can beat their nearest rivals with no silverware riding it. Reds boss Jurgen Klopp has emphasised that his side is not in a mood to ease off and will want to further add to City's woes by beating them which may significantly impact the soccer live scores today.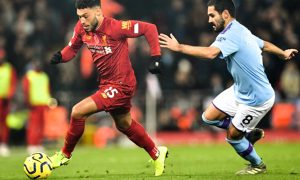 "As long as we stay humble and greedy, we have a good chance to be a really uncomfortable opponent, and when you are an uncomfortable opponent you have a chance to win," Klopp said. "When you have a chance to win, you have to take it. Life is constantly a challenge. Our challenge now is to be a champion and play seven games against teams who are fighting for everything. We can show we don't win because we have to, but because we want to." Klopp also revealed the relentless approach was something he learned from watching a documentary about New Zealand's All Blacks.
While Liverpool may want to win today's game, City will want to show that they intend to get back next season and beating Klopp's men at the first opportunity will be a good start. City will want to hurt the away side with a win, especially after they just pipped Liverpool 12 months ago. Over 3.5 goals have been scored in the last eight games when these sides have met and it is without a shadow of a doubt that the predictions for the match today will be any different.
Stay geared for today's Liverpool vs Mancity match at 12:45 AM. KheloMore is geared, are you?