The Crescendo of Football Season ⚽ 🏆
What a superb last couple of weeks to end the English football season. Manchester United sneaked into the champions league by winning the Europa League final against Ajax in Sweden. Excellent 1st season for Jose Mourinho. 3 titles along with the Champions League qualification.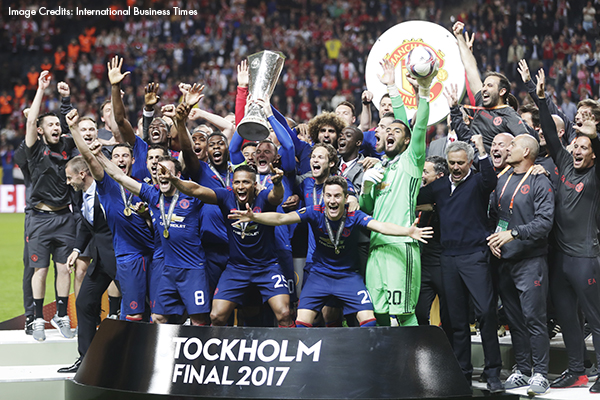 Chelsea deservedly won the premier league title. Conte showed a tactical master class by switching to the back 3 and Chelsea have never looked back since. Arsenal put behind the disappointment of not qualifying for the Champions league by beating Chelsea in the FA cup final. This is their 3rd FA cup trophy in the past 4 seasons. 
A frantic transfer window now awaits the English teams.
Manchester City have already signed Bernardo Silva from the French champions Monaco. Manchester United are also back in the Champions League, so expect them to go big to fill in the gaps in their squad. Chelsea dominated the league, yet Conte would like to fill a few gaps in the squad, especially in the striking department. Arsenal will need to tie down Alexis Sachez and Mesut Özil, who are both their most important players. Now that Wenger is back as the Arsenal manager, the team can just concentrate on charging ahead full steam.
Coming up also is the Champions League final in Cardiff. Its going to be a cracker of a game. On one side are the Italian Serie A champions Juventus, managed by Massimiliano Allegri and led by the evergreen Gianluigi Buffon. This might be the last chance for him to get his hands on the Trophy. Will the third time prove lucky for him after being a runner up twice?
On the other side, its the Spanish La Liga champions Real Madrid managed by former Juventus legend Zinedine Zidane, who would be aiming to win it for the 3rd time in the last 4 seasons. They have just wrapped up the La Liga on the last day of their season after being given a serious run by Barcelona. Also in their ranks is 4 time Ballon d'Or winner Cristiano Ronaldo.
How he fares against Gigi Buffon will go a long way in determining the outcome of this game.
Will it be the Italian Defence or the Spanish Attack which reigns in Cardiff? We will find out coming Saturday!