Swami Vivekananda High School moves to finals in the Harris Shield Tournament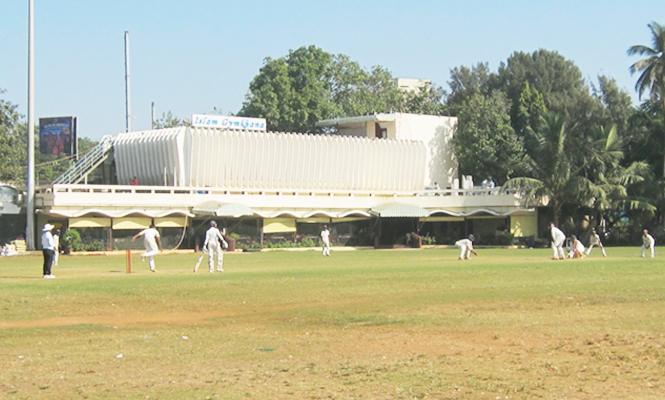 Harris Shield,
Semi Final.
Venue: Bombay Gymkhana, Mumbai.
Swami Vivekananda High School vs Don Bosco High School
Rishi Bhosale started promisingly but Anubhav Sharma fell for 5 with scoreboard reflecting 22 in 8.4 overs. Nishant Kadam also got bowled by Vijit Poojari in 15th overs with situation looking bleak for Swami Vivekananda. Supresh Mugade came and stabilized the innings with forging 40 runs partnership before Rishi fell for 24. Skipper Rishi Shah scored same as his namesake and much needed 66 runs partnership with Supresh. Prateek Gond made 11 and Rithik Shah contributed 19 as Swami Vivekananda were all out for 188 in 72.5 overs. Vijit took 5 wickets for 43 runs and Left arm Spinner Yash Kripal bagged 4 for 42 runs. Don Bosco had an indifferent start with openers Kevin Keshvan & Parth Pathak going down with 26 on board. An early stand remained wanting with score 56/5 in 23rd over. Yuvraj Natalkar and skipper Shresh Jadhav then took Don Bosco to 104 when Yuvraj fell for 26. Shresh remained unbeaten at 46 but couldn't stop the team collapsing for 146 in 53.5 overs. Nishant Kadam took 5 wickets for 66 and Left-arm Spinner Rishi Shah bagged 3 for 14 runs.
Brief Scores: 188/10 in 72.5 overs ( Supresh Mugade 71, Rishi Bhosale 24; Vijit Poojari 43/5, Yash Kripal 42/4) Swami Vivekananda High School; 146/10 in 53.5 overs ( Shresh Jadhav 46*; Nishant Kadam 66/5, Rishi Shah 14/3) Don Bosco High School.
Toss: Don Bosco High School elected to field.
Captains: Shresh Jadhav (Don Bosco High School) ; Rishi Shah (Swami Vivekananda High School).
Umpires: Y. R. Gavankar, Dinesh Puthram.