5:30 p.m., Saturday, 23rd December.
Mark your calendars! The first Clasico of the season is here! League leaders Barcelona visit the Bernabeu, to face the newly crowned Club World Cup Champions Real Madrid. Barcelona (42 points in 16 games), have a chance to extend their lead over the fourth-placed Madrid (31 points in 15 games) to 14 points with a win. Barcelona also have Atletico Madrid and Valencia breathing down their neck with 36 and 34 points respectively. This was not how the season and league table was expected to look, that too almost mid-way through the season. Real Madrid were, before the start of the season, believed to be the strong favorites to run away with the league, and Barcelona were expected to struggle to cope due to the loss of Neymar. This belief was further strengthened when Barcelona were comfortably defeated, 5-1, on aggregate by Madrid in the Spanish Super Cup. Pique summed up the general consensus aptly when he said "This is a long process and there is room for improvement but in the nine years that I have been here, it is the first time that I feel inferior to Madrid." (https://www.theguardian.com/football/2017/aug/17/gerard-pique-real-madrid-barcelona-inferior-first-time-nine-years) 
So how did this happen? For Barcelona, the easy answer would be the presence and form of Messi, who has been exceptional this season. He has been involved in 19 goals in 16 of La Liga's games, scoring 14 and assisting 5.
But we cannot ignore their new manager, Ernesto Valverde, who has transformed this side, especially the defense, in very little time. The team is more organized at the back which has resulted in their impressive defensive numbers – they have conceded the least number of goals in La Liga this season. Up front, even though Luis Suarez has struggled at times (by his lofty standards) in front of goal this season, the team has managed to find goals from other parts of the pitch, specifically Paulinho who has 6 goals so far in La Liga. On the other hand, things get a little murky while trying to dissect why things have gone so wrong for Madrid. They loss of experience on the bench with the departures of established players like Pepe, James Rodriguez, Alvaro Morata, Fabio Coentrao, Danilo and Mariano certainly played a part.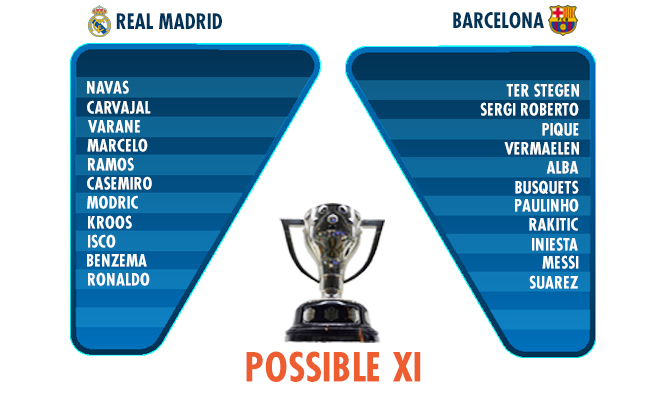 The sale of Morata and Mariano in particular has been detrimental as the team has lacked the goal scoring prowess of previous seasons. The numbers are especially pitiful in La Liga – Ronaldo with only 4 goals, while Benzema and Bale haven't fared much better scoring 2 each so far.
Injuries and suspensions have affected their season too with key players like Gareth Bale, Keylor Navas, Ronaldo, Dani Carvajal all missing significant time. Also, Madrid's bench got the team out of quite a few sticky situations last year, but they don't have the same firepower this season so far, with promising players like Marco Asensio and Borja Mayoral struggling for consistency. Ultimately, Madrid's failure to replace the bench scoring and spark provided by James Rodriguez and Morata has played a huge role in their overall struggles. Madrid will need, in particular, Isco and Ronaldo to be at their best in order to break down this Barcelona defense and cut the lead at the top of the table down to 8 points. They will be looking to build momentum off of their performances in the Club World Cup and a victory in El Clasico could be a good step in their effort to turn their La Liga season around.
This is a must-win game for Madrid and anything less than 3 points could effectively end their title hopes. Barcelona, on the other hand, will be relying on their newfound defensive improvement and the genius of Messi to put considerable distance between them and their arch-rivals at the top. Barcelona enter this game as strong favorites, but, ultimately, the outcome of this game will depend upon the midfield battle, as they so often are between these two sides.
By: Rahil Thakkar