Khelo More – Removing friction of participation in Sports By Rajender Sharma for InsideSport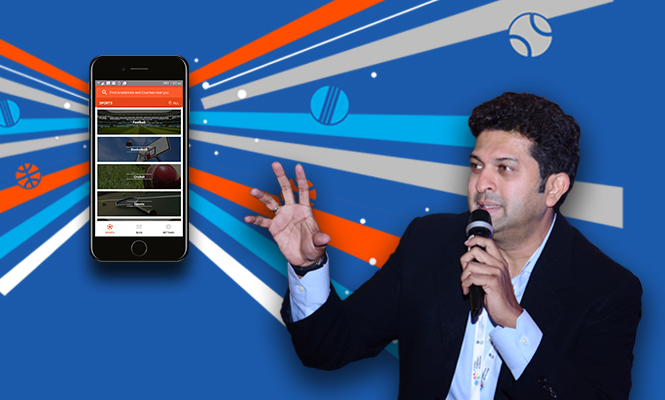 Khelo More – the digital world tool – is bridging the gap between aspiring sportspersons and everything it takes to succeed as a sportsperson.
"We wanted our children, 11-year old twins, to join a tennis academy for their overall development. And we found one, just 200m away from our house. But then, we made around 5-6 trips for enquiry and it all went in vain. Reason, either the coaches weren't there or the administrative staff was absent. This frustration gave my wife an idea and the end product- 'Khelo more'. Now, we have removed the friction of participating in sports and that is what 'Khelo More' is," says Jatin Pranajpe, former Mumbai and India cricketer and brain behind 'Khelo More'.
Having more than 15 years of active sports background as a cricketer and about 10 + years of corporate experience with Nike and Sporting Frontiers, Paranjape understands what it takes on and off the field to excel as a sportsperson. On the sidelines of a sports forum in Delhi, Paranjpe talked to Insidesport.co about the platform, its difficulties and the goals ahead. Here are the excerpts:
Insidesport: Now that you have a platform to run and manage it, there are certain tactics and a model around it. Tell us something about 'Khelo More' and about the business model.
Jatin Paranjpe: The business model is very simple. We are trying to make a single platform for players, parents, coaches and academies. Along with skill enhancement there will be modules for the players. Parents can access the nearest academy and then keep a check on their child's enhancement. They can also keep a tap on coaches and academies. And then there are other business aspects and all this comes for a nominal fee that the user has to pay.
All you need to do is to log on to Khelo More when you are searching for an academy or a coach. We have 10, sports in 10 cities to which offer this connection. The app offers you numerous options on coaches, academies, batches, fee package, etc.
IS: How has been the response till now to such a platform?
JP: It has been 2 months since the launch and the response has been fantastic. The coaches and academies want to come on-board. Then the consumer base is growing and it is gaining relevance in the digital-consumer world. The traction so far has been fantastic.
IS: Can we see this same gaining relevance in the rural India as well?
JP: I think the digital has penetrated the rural areas as well, although, the language is the only barrier. But then to tap it, we will soon be launching a Hindi version of our platform. And then we will try to customize it to the local language of whichever market we go. I think, rural India will accept it.

IS: Your journey has been a diverse structure, from an Indian cricketer to sports corporate, working with a global brand like Nike in Europe and now back to India. Can you share your experiences?
JP: I've been lucky to be working in sports. For me everyday spent in sports is not work, it's a sheer joy. The journey has been a fantastic one. I did a very significant assignment for Nike working in European sports market. But I always wanted to come back to India and help sports fraternity in India with whatever I have learnt. There are so many things to be done in sports and I just want to be that extra hand on the deck.
IS: What are the challenges that you have faced till now?
JP: As a startup, there are challenges that we have to face on a daily basis. There are technical issues, communication problem, or some or the other thing. So every day comes as a new challenge to us.
IS: Do you think India needs more platforms such as yours?
JP: I think the subject of sports have many subsets in the ecosystem. And all those come with a new challenge and a problem. And platform like ours can help to overcome these issues.
IS: You have cricket running through your veins. Your father Mr. Vasoo Pranajpe was himself a coach and there is always a responsibility to carry a legacy. But, you have some other plans and thoughts?
JP: While I was playing cricket myself, there was a certain curiosity to know what is behind the curtain? And this curiosity grew into fascination, which made me enter into the business of sports rather than becoming a coach.
IS: If you have to describe 'Khelo More' in a line, what will it be?
JP: Removing the friction of participating in sports, that is what 'Khelo More' is all about.