Gokuldham and Jamnabai Narsee School lead in an early draw
Table Tennis Tournament,
U-16 Boys.
Venue: University Pavilion, Marine Lines.
27/11/17
After a brief warm up of the latest MSSA's Table-tennis tournament, the players dove straight into competitive games against each other, bringing out the best from the students in singles and doubles matches. Below are the match reports :
Shubham Saini from Gokuldham played against Rohit Patel of Trinity International School and found it an easy ride. Playing with spin and chop, Rohit found it hard to reply to those swerving ping pong balls. In a best of 3 game, Shubham managed to win first set 11-6 and got one better in finishing final set 11-4. Now the players have to face respective teams in a team event. Gokuldham played Pranit and Trinity International started Varun Gazala. With backhand, chops and spin a routine, Trinity International felt the full wrath of forced and unforced errors. After finishing first set 11-2, next set and finally game was concluded with 11-3.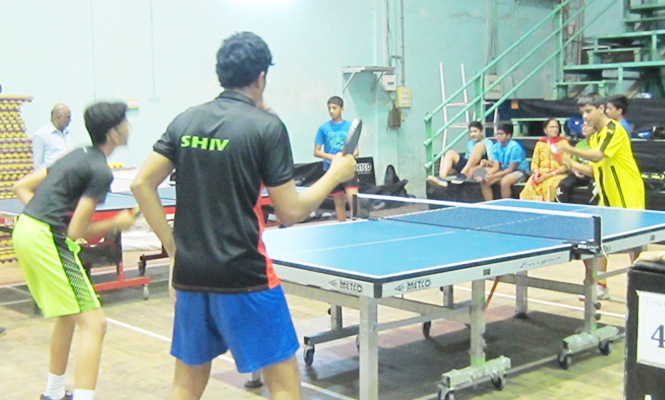 In second event, Jamnabai Narsee School played Cathedral.
Rajveer S, fresh from a loss in Maharashtra State competition, was raring to go with focused warm-up routine. Manit from Cathedral also packed some decent punch. Rajveer raced away with the first set, with impeccable short serves and calculated smashes. With concluding first set for 11:5, Rajveer fared better after switching sides and only allowed Manit one point before sealing the game 11:1. The team event between both the schools was more equal with Neev and Yohan joining Jamnabai Narsee and Cathedral. The parents and score keepers feasted on a jaw-dropping set of combative rallies, drop shots and smashes. Jamnabai Narsee narrowly won the game, 11:8 with once drawn level at 7-7. The second set couldn't live up to the expectations and Cathedral surrendered after leading 1:0 owing to crisp, drawn shots and swerving smashes. Rajveer and Neev concluded the set and game 11:3 with win over Cathedral.