4 parents of Rising Stars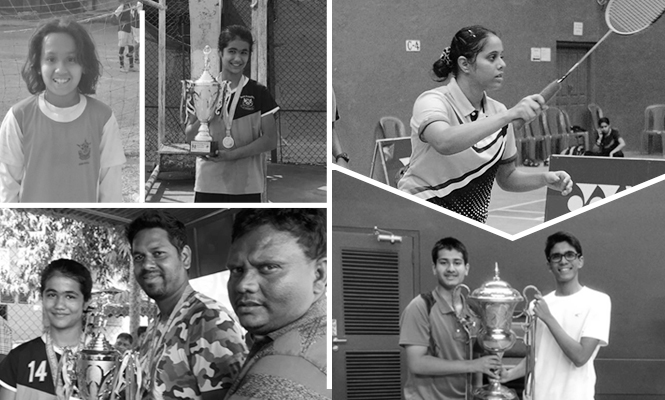 Parenting isn't easy; parenting future sports stars, definitely not so. You have to not only keep an eye on their academics but also keep track of their practice sessions, matches and most importantly, their fitness and nutrition!
KheloMore spoke to 4 parents of Rising Stars, to get their point of view.
Bharti Majumdar on Badminton player Varun Majumdar 
"Varun started playing Badminton at the age of 7, taking it up just as a hobby. But as time went by, he began to excel and by age 11 won his first tournament ever! That is when we realized that he has a knack for this game. He's been playing at the district and state level and aspires to go further. He doesn't really enjoy any other sport as much but jogs every day to stay in shape. "He is a conscientious boy and managed his love for Badminton very well with his academics, especially during his 10th boards. So we do our best to support him; catering to his specific healthy diet requirements that mainly include home food.  "He has a positive outlook towards sports – takes his wins and losses in stride."
Lopamudra Warang on Badminton player Akshaya Warang 
"She took up 3 sports – Karate, Swimming and Badminton – by the time she was 6 years old; but soon began to show an affinity towards Badminton. She had a knack for the game with good hand-eye coordination that helped her excel. "She is a sincere girl who managed both Badminton and academics with ease, taking a break during her 9th and 10th standards; but resumed soon afterward. 
"We've tried to streamline her diet; luckily for us, Akshaya's maternal aunt is a nutritionist and helped us out. We didn't have to work too hard on it as she herself is a very disciplined girl and understood the importance of good diet and kept herself away from junk food. "Although losing is a part of a game, Akshaya wasn't used to it initially; and would get worked up and frustrated … until her coaches took her under their wing and helped her focus on important things, helping her take her losses in her stride."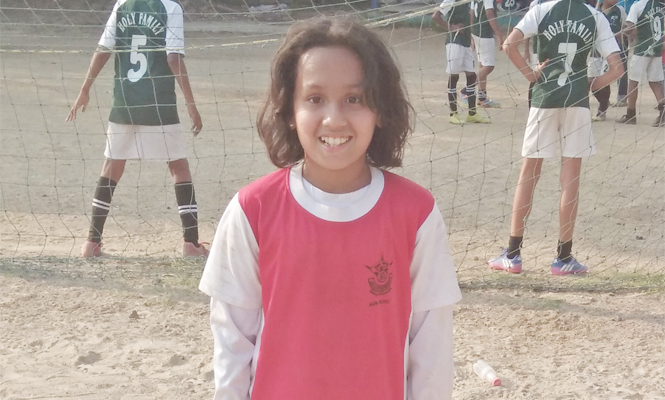 Himanka Das on Football player Tanishka Das 
"Tanishka is a very active child and a sporty child, from a very young age. When she was in grade 1, we enrolled her for Karate which she enjoyed; but by the time she went to Grade 3, she was keen on Football more than Karate and joined her school's coaching. It turned out that she was quite good at this new sport and so we encouraged her. "A year later, we enrolled her in the BOCA Club along with her school coaching and saw her game flourish! She started off as a defender and slowly developed her technique and skill, to a more attacking role in the team. "That is when she started taking her team by storm, helping her school win the championship! Although she is an avid player, she is more of an assister of goals rather than a scorer, and sometimes it leads to frustration as she doesn't get recognition for her efforts. But we, along with her coaches counsel her on such situations and help her tide through. "With such great play, her nutrition and diet become very important. We pay close attention to what she eats and when giving her a protein-rich diet. We also monitor the timings carefully, ensuring that she takes energy drinks before and during matches."
Pooja Vaswani on Basketball player Kimaya Vaswani  
"Kimaya was always a hyperactive kid and sports helped channelize her energy. She started her spell in sports with skating, which in all honesty, started as just a hobby, but excelled and went all the way till Nationals. The journey was definitely not easy – for her or for us – as her coaching used to be very early in the mornings… but we did it! "She has always been a determined girl; determined enough to move on to a team sport and hence opted for Basketball. She's never looked back since then! "But with intense sports activity, we had to pay close attention to her diet and nutrition. We cut down on her junk food and added a lot of protein in her daily diet. "We are glad that Kimaya is an athlete – playing sports helps one be more focused, sharp and improves their mental grasping power. We will definitely encourage her to play more sport, especially since she's been managing her academics well too! All we want for her is to be a good human being in future and be the best at whatever she chooses."