The Final: SMT AVM, Juhu Vs Bombay Scottish, Mahim.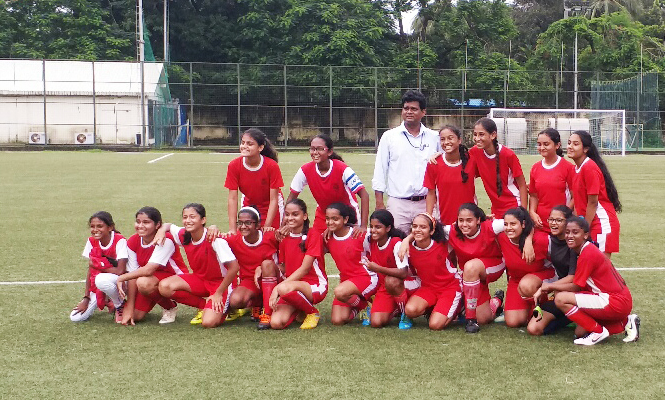 The final started with AVM on the front foot. It was played in final third of Bombay Scottish with team Captain Anagya pulling strings from deep. First effort at goal came within 2 minutes followed by another tame effort on goal from close range by AVM front line both foiled by Scottish Goalkeeper. Deadlock broke at 10 minutes mark by Gaurika, No. 3 of AVM, a proper team goal dissecting the opposition defence.

AVM grew in confidence with similar second goal after 25 minutes with another set of intricate passing by Gaurika.

A free kick was given after foul on No 10, Denise of Bombay Scottish with resulting free kick stinging gloves of AVM keeper.

The game stopped for a halt at 1:0 to AVM.

Half time.

Game started.

After half-time, game started with similar possession stats, AVM controlling the game which resulted in two quickly taken corners, second one, a Stinging shot by the captain, No 6, Anagya.

A rare foray forward by Bombay Scottish was stifled due to inefficiency up front and less control in midfield.

A 7 yard free kick was awarded, following a back pass by an outfield player to GK of AVM, didn't end up at the back of the net.

A fine solo run from midfield by Anagya, was effectively thwarted by Bombay Scottish keeper.

Inside dying minutes, a foul inside the 18 yard box resulted in a penalty for AVM which was converted by the Anagya confidently.

AVM ended their campaign as Winners 3:0 over Bombay Scottish.