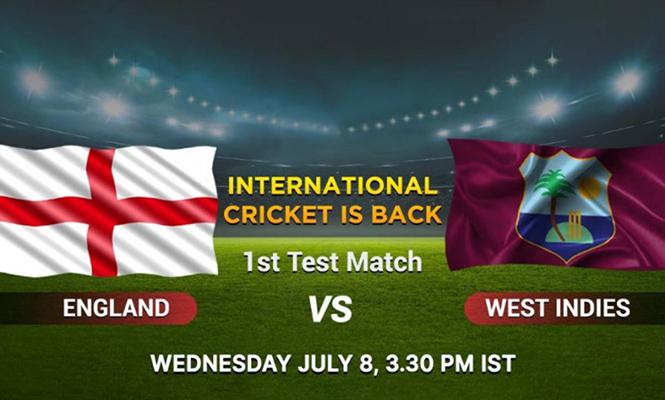 Eng vs Wi Test Match for all Cricket-starved fans!
Donning their brand-new maroon and navy kits, the Windies' practice sessions at Southampton mark the return of test cricket with today's cricket match- Eng vs Wi Test- to the world stage in the form of the storied Wisden Trophy. The Rose Bowl stadium in Southampton, known now as Ageas Bowl for commercial purposes, is known to have some of t.he best facilities in England after Lord's. It's home to the Hampshire cricket club, where Malcolm Marshall and Gordon Greenidge once strutted their stuff. The Dukes ball used in England is loved by pacemen around the world as it consistently rewards swing bowling compared to the Kookaburra and SG balls, and this series which starts with today's cricket match promises to be an exhibition of the same
The Wisden Trophy, awarded to the winner of a test series between England and West Indies, was constituted in 1963, amid the growing ability and popularity of Caribbean cricket. Garry Sobers laid down one of several markers for greatness in the '66 edition, scoring 722 runs and taking 20 wickets, to ensure retention of the trophy for the Windies. Viv Richards held England to the sword in '76 with a mountain of runs as Tony Greig's machismo backfired spectacularly. Marshall and Garner fashioned two "blackwashes" in the mid-80s, taking more than a hundred wickets between them in the two series. Graham Gooch's 154, one of the greatest test innings ever, came in '91, and Lara scored both his world records, 375 and 400, in '94 and '04 respectively. Although not the draw it once was, the 2020 edition holds much anticipation for cricket starved fans even as the scourge of pandemic lurks in the background.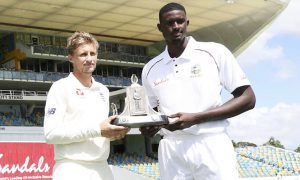 The trophy is currently held by the islanders since they won the 2019 edition 2–1 thanks mainly to Kemar Roach's speedsters and Roston Chase's all-round performance. Roach when in full swing resembles a high-strung bow, firing low angled deliveries moving both inwards and outwards at more than 80mph. Along with those two, Windies will be looking to captain Jason Holder and Shane Dowrich to provide a winning base. Shimron Hetmeyer and Darren Bravo will be sorely missed, especially the former, and their absence leaves a big hole in the batting line-up.
Although Holder's batting form has been flagging, he has risen to challenges in the past, including a spectacular 202 in the last Wisden Trophy. Shane Dowrich, the wicketkeeperbat, is another important piece of the puzzle, providing valuable down the order partnerships with an excellent temperament. The top order has been struggling, though both Kraigg Brathwaite and Shai Hope are capable of something special every now and then. Alzarri Joseph, a young, lanky medium pacer with an uncomplicated bowling action, will be hoping to add to his wicket tally ball by ball from the previous Wisden edition. England are missing their captain Joe Root who will be hard to replace. The talismanic Ben Stokes, of whom much is expected, will be the stand-in captain. England cricket team's top order is the weakest it has been for a long time, with a smattering of leadfooted leys – Sibley, Denly, and Crawley. The Windies pacers will be eager to exploit this weakness. The England cricket team's strength lies in their lower order batting and variety of pace merchants.
In the absence of veterans Johnny Bairstow and Moeen Ali, who were both dropped, much will depend on the batting of newcomer Ollie Pope and world cup hero Jos Buttler. Pope has a good technique and has all the makings of a long-haul test batsman. Anderson, Woakes, and Archer promise to be a deadly bowling unit in home conditions, although doubts remain over Anderson's fitness. Woakes will be expected to make the Dukes ball swing around early on and get some quick top order wickets. Archer is a weapon when motivated and could be the key to disband the Windies' middle order ball by ball.
   Joe Root of England with Jason Holder of Windies
The series should yield fast-paced cricket, sessions of high attrition and lacklustre moods, multiple low scoring innings, and pacers dominating proceedings. Ben Stokes and Jason Holder, the respective captains, are both all-rounders of strong pedigree. Stokes is more of a batting all-rounder and Holder more of a bowling one. Stokes is inspirational, talismanic, leading from the front with his passion on full display. Holder is more understated, gathering the morale of his team with his all-round efforts, including as an excellent slip catcher aided by his bucket-like hands. They will each have a task on their hands to rally their troops, as both sides are prone to bouts of temperament.
The Windies are slight favourites with a more stable batting line-up capable of big runs on their day, despite Hetmeyer's absence. The frail England cricket team line-up will have to will some magic runs into existence to grasp on to victory. Although the bookies beg to differ and have given England better odds. It's at times like these that someone unlikely often raises their hand and lays down a career defining performance. England will be hoping for that from one of several young guns. Let the Eng vs Wi test begin! Check latest cricket scores in the lockdown with live cricket streaming!