Maharashtra Turf Club: The Ultimate Turf Destination in Mazgaon!
Looking for a pocket-friendly turf near Mazgaon or Byculla to kick-start your fitness regime? Choose no other than the Maharashtra Turf Club by Maharashtra Fitness, located in the heart of Mazgaon. From sports enthusiasts to casual gym-goers, Maharashtra Turf Club has something to offer everyone.

Maharashtra Turf Club is a turf in Mazgaon and a turf near Byculla, which is also easily accessible to people residing in nearby areas like Dockyard Road, Grant Road, Charni Road, Marine Lines, Sewri, and Wadala. This makes it a perfect choice for people looking for a fitness facility close to home without wasting time on travel.

This turf in Mazgaon has been spread across 75 feet by 110 feet, and the half-turf, 36 feet by 110 feet, is designed to be used in all weather conditions. The turf is made of supreme quality and mimics the look and feel of natural grass, providing a comfortable and safe playing experience. Whether you are interested in playing football or cricket, you can find it all here. Maharashtra Turf Club also provides all the necessary amenities, such as a canteen, changing rooms, washrooms, and seating arrangements, offering a complete sports experience to players and spectators alike. This turf in Mazgaon is also suitable for group fitness, boot camps, and kids fitness, making it an ideal place to spend time with friends and family while working on your fitness goals.
One of the unique features of Maharashtra Turf Club is its pocket-friendly prices, making it an excellent choice for people on a budget. You don't have to compromise on the quality of facilities or equipment to stay within your budget, which is a significant advantage for many fitness enthusiasts. If you are looking for turf near Byculla, Maharashtra Turf Club is your go-to place.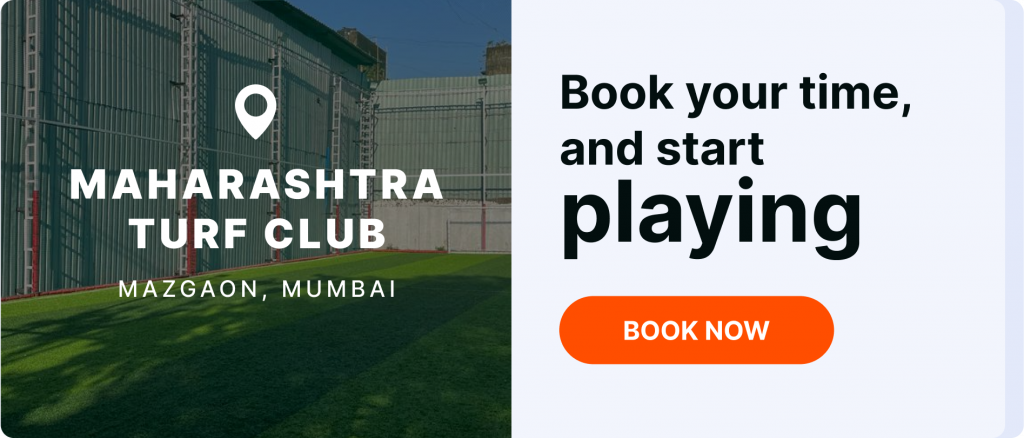 Overall, Maharashtra Turf Club is an excellent choice for anyone looking for a fitness centre that is affordable, accessible, and provides top-notch facilities.
This turf in Mazgaon is committed to promoting Maharashtra fitness and wellness and creating a supportive community of fitness enthusiasts. Whether you are a sports enthusiast or just looking for a place to stay fit and healthy, the Maharashtra Turf Club is the perfect destination for you. Book this turf online on KheloMore app and experience the joy of playing there. Avail the turf with all the facilities for as long as you want with KheloMore.
Isn't it fascinating that the chance to play on this quality-driven turf is available at your fingertips? So why wait? Just download the KheloMore app, book the turf, and head to the Maharashtra Turf Club today to start your fitness journey towards a healthier and happier you!