It's amazing to be participating in the most prestigious tennis tournament in the world – Jeevan Nedunchezhiyan
Jeevan Nedunchezhiyan, the incredibly talented southpaw from Chennai, is one of the 3 Indian tennis players who have qualified for the Gentlemen's Doubles at Wimbledon 2018. This is his maiden Grand Slam Main Draw, and what better place to be for a tennis player other than The All England Club!
Let's hear from Jeevan.
1. This was your debut at Wimbledon in men's doubles and you guys qualified. What's going through your minds?
Ans. Yes, it was our debut at the Wimbledon and it's a great feeling to have made qualified for the Main Draw. It's amazing to be participating in the most prestigious tennis tournament in the world! Am really happy to have found a great partner in Austin (Krajicek) and we are hoping to set a good schedule for the summer. We are going to focus consistently on getting better and making this a regular appearance in all the grand slams.
2. You beat 2 British teams to qualify and without dropping a set. Did you guys feel the pressure and how did you handle it?
Ans.  It is never easy to face British teams here, considering it's they get a lot of home support. The crowd was rooting for our opponents and showing their support whenever they got a chance. So yes, we could feel the pressure during a lot of situations. I feel the hallmark of our game, which helped us handle the pressure and qualify without dropping a set was our high-quality service game. We never faced a breakpoint in either of the matches, which goes to show that our service game was on-point. I am really excited to participate in the main draw now.
3. This is the early stage of your partnership with each other with Wimbledon being the 3rd tournament together. Definitely a lot of positives?
Ans. Of course, a lot of positives to be drawn away here. I feel Austin & I have a great future on the Doubles tour and we are looking forward to play the summer together. We're looking forward to train consistently so we can maximize our potential and pull off such performances over the next upcoming tournaments.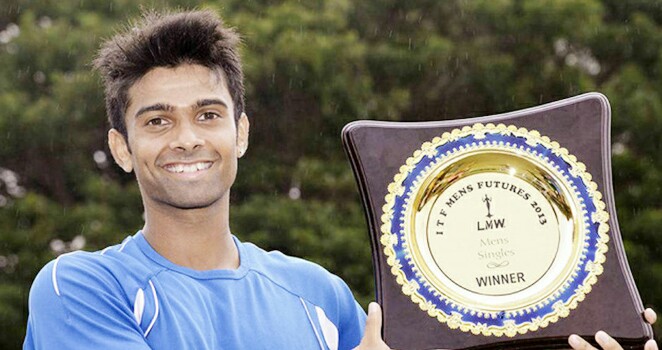 4. The 2018 Wimbledon has been the most participation from India in any Grand Slam ever (7 Main Draw and 4 Qualifying players), what do you think has made this possible?
Ans. It's a great achievement for the Indian Tennis scene, to see this number in participation in Wimbledon. I feel it's just a bunch of really hard-working people, who are doing the right things and are willing to put in a lot of effort to see results. Playing the main draw at a grand slam, particularly at Wimbledon, is the pinnacle of almost every tennis player's dreams. That we have made it this far is going to inspire all of us to step our games up and keep chasing titles.