It's a hattrick for Al Barkaat!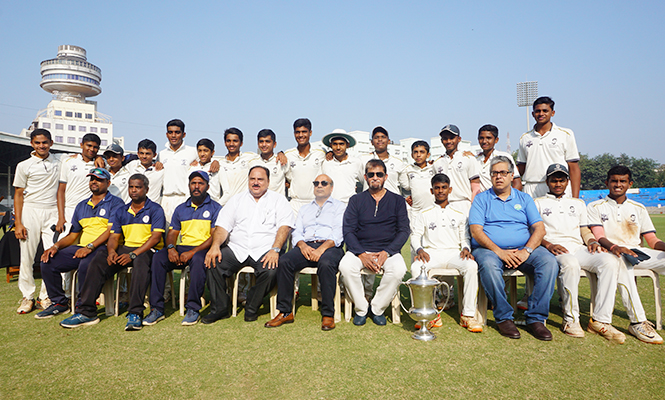 Tushar Singh's gritty 106 not out of 362 balls, & Nutan Goel's 120 of 188 balls, helped Al Barkaat MMI (Kurla) beat Don Bosco (Matunga), by a virtue of first-innings lead, to win their consecutive MSSA-organised U-16 Harris Shield cricket title at the Brabourne Stadium on Wednesday.
Al Barkaat won the toss and chose to bowl first. The Boscoites started the innings aggressively, scoring 38 runs in the first six overs. However, Bosco failed to capitalize that start and quickly lost two wickets — Arya Chowkidar & Sudesh Pednekar — within the next five overs; bringing the score down to 58-2 in 10.3 overs. Bosco, then, started losing wickets in quick succession & landed into deep trouble by their fourth wicket at the score of 81, just before lunch. They could have been into bigger trouble if Robin Vel had held on to a simple catch at mid-wicket, off Mayur, to send skipper Sahil Jadhav back to the pavilion. Sahil Jadhav made Al Barkaat pay for that dropped catch and went on to score a brilliant 101 off 212 balls!. Bosco ended their Day 1 at 271 for 9.
Day 2
Chris D Britto & Soham Nalawade put 18 runs together & Don Bosco ended their innings at 289.  Al Barkaat started their innings cautiously, specially Tushar Singh. Prem Naik did most of the scoring and Al Barkaat lost their first wicket at 68 runs. Post lunch, Don Bosco set the field aggressively & it paid them well; Al Barkaat lost another good batsman, Hussain Shaikh. They were 101 for 2 by the time Nutan Goel Came to bat.  Nutan Goel, along with Tushar Singh, played a sensible inning, ensuring they didn't lose any more wickets that day. And Al Barkaat ended their day at 131 for 2.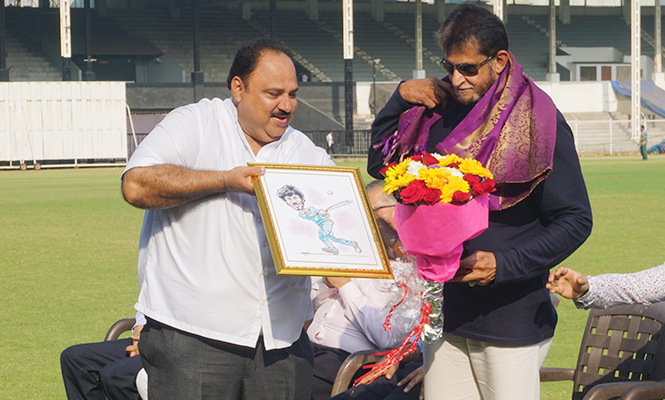 Day 3
A Bright sunny weather & the final day of Harris Shield Final. A crucial day for both the teams. Tushar Singh & Nutan Goel started their innings cautiously again. They were only looking for singles. A patient & a brilliant knock in the Harris Shield final by both of them. They chased the target successfully. Nutan Goel finally got out on 120 but till that time all the damage was done. It was a treat for the crowd to see three centurions in the Mega Inter School Harris Shield Tournament.  With that successful chase, it's a hattrick for Al Barkaat. It's a double cheer for Aryan Shejule of Al Barkaat as he won the Best Bowler of the Tournament.
Brief Scores: Don Bosco 289 (Sahil Jadhav: 101, Arya Chowkidar 37, Mayur Deorukhkar 3-50, Anurag J Singh 3-74, Aryan A Shejule 2-72)
Al Barkaat MMI English, Kurla: 306 -3 (Nutan Goel 120, Tushar Singh 106* Zaid Patankar 2-92, Chris D'Britto 1-46