Don Bosco Matunga lift the MSSA Division One cup for the second time in a row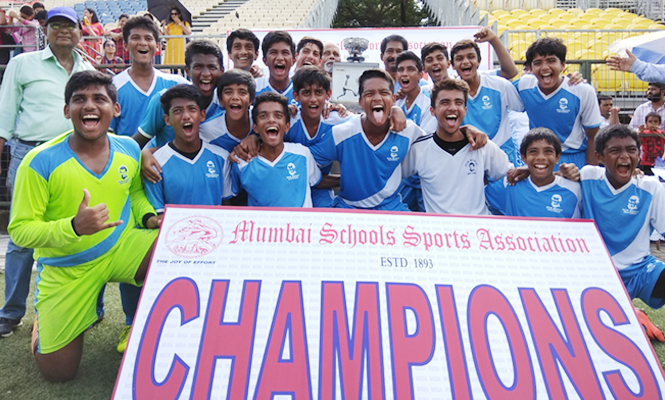 8 August, Cooperage ground, Mumbai.
The Cooperage ground, Colaba, was one noisy place today when Don Bosco Matunga locked horns with Campion in one of the most intense games of Division One. Although, it was one of the hottest day, supporters for both the teams were a plenty.
The game itself had a fiery start; the challengers raining several attacks on the reigning champions, putting Bosco defenders, and the coach, under massive pressure. Sandarbh Verma and co. of Campion, were brilliant at denying Bosco from creating any chances and the first half was pretty uneventful.
But something came over the Bosco boys in the second half; probably the firm words of their coach gave them the boost they needed; and they started ramming the Campions' defence with some fierce attacks mostly led by Anson Tauro and Krishna Karkera. Finally, it happened! Captain Mannan Dang's cross was headed neatly into the back of the net by Nihal Dudwadkar, pumping back the Bosco boys' morale.
Although Campion weren't disheartened by this goal and kept their attempts on, Nathan Murzello of Bosco scored another goal and soon the third by Dudwadkar, sealing the deal in Bosco's favour, 3-0.
The sound of dhol now echoed throughout Cooperage, making the win very festive!
"Some players were nervous, but we huddled up during the water break, planned a couple of strategies, went out and simply played our natural game," beamed the winning captain Manan Dang.
For more pictures from the match come back tomorrow.