Commonwealth Games, here comes India!!!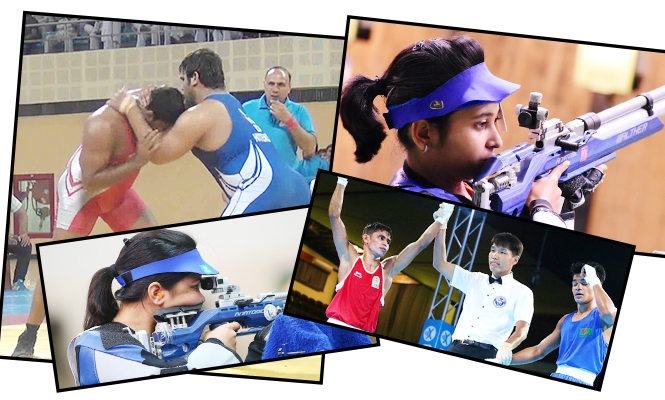 Commonwealth games 2018 are here! We have high hopes from our athletes after their reasonable good performance last CWG. Team Khelomore, with the help of Olympic Gold Quest (OGQ), spoke to four athletes – Sumit Malik (Wrestling), Gaurav Solanki (Boxing), Mehuli Ghosh (Shooting) and Apurvi Chandela (Shooting) — about their preparations and expectations this year!
How does it feel to be representing India at the CWG? 
Sumit Malik (SM): This is my first Commonwealth Games and I am very excited about it! I am in good shape having trained very hard everyday. Last year, I won the Silver at the Asian Championships which gave me a lot of confidence. I will give my best at the Commonwealth Games; my aim is to come back home with a medal. 
Gaurav Solanki (GM): I am really looking forward to the CWG as it is my first big tournament in the senior category. After winning the Silver at Commonwealth Youth Games in 2015, my target now is the 2018 CWG. I did very well at the trials and I hope that I am able to maintain my form and do well at the CWG.
Mehuli Ghosh (MG): It feels really good. It is my one of the dreams.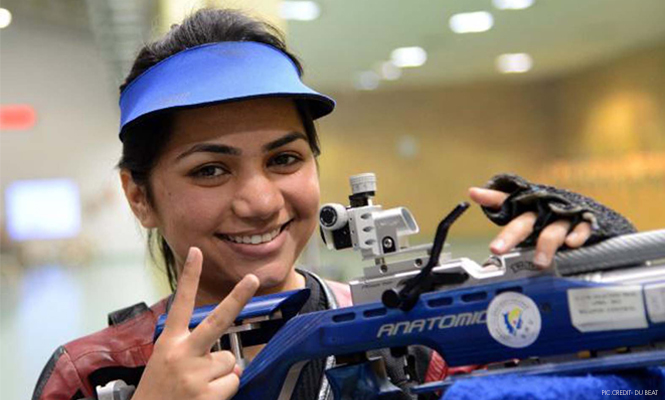 Apurvi Chandela (AC): This is an exciting time for everyone representing India, not just me. We have seen a surge of shooters who have showed their calibre at various international outings. Looking forward to seeing India go a notch higher than the last time in Glasgow.
How has OGQ helped you in your Journey? 
SM: OGQ' s support has been a big boost. They have provided me with a foreign coach, Vladimir Metsirishvili, who trains us at Chhatrasal Stadium in Delhi. I also have a personal physio who takes care of my fitness and recovery. Apart from that, OGQ has provided me with supplements, training kit and sent me to many international training camps. I have improved a lot in my sport, thanks to OGQ's support!
GS: OGQ has helped me extensively — with a nutritionist who gives me a detailed diet, helping me strengthen and maintain my muscle mass; and by providing me with training kit and nutritional supplements. I am grateful to their timely support.
MG: OGQ helped me upgrade my shooting equipment enabling better shooting, besides other stuff. I am eternally thankful for their timely help!
AC: OGQ has been the backbone of my career. They've taken away all the pressure of coordinating with various agencies required to make an all-round development of a sports person, by doing it for you. This is a great motivation for any athlete, helping us concentrate on what's important – the practice!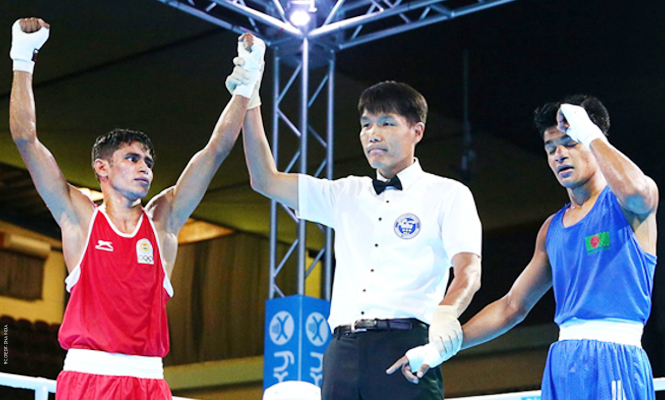 What is your fitness routine? 
SM: To be a world class wrestler, you have to be extremely agile, powerful and strong. I compete in 125kgs freestyle class, and keeping my weight intact is very important for me. I had a career-threatening slipped disk in 2016, and since then I have been working very stringently on my fitness. For the CWG, I train 5 days a week. Morning sessions are usually on the mat, practicing the technical aspects of wrestling while evenings are spent in the gym or on the ground, working on agility, endurance, speed and strength. The coach gives us a weekly schedule which changes as per my progress.
GS: I work out a lot, both, in the gym and on the ground. Fitness is the key for any boxer and you have to work on it everyday. I work on my fitness for about 2 hours everyday and rest of the time is spent in the ring on technical training.  
AC: I have realised the importance of a strong mind and body to be able to endure the big line up of shooting competitions, so I train with a personal trainer at the gym and do yoga. I am careful with my diet.
How has sport changed your life?
SM: Wrestling is what I have always done and I cannot imagine my life without it. To win a medal for India is the highest honour for any athlete and I dream of that everyday – that I win and the tricolour goes up with the National Anthem playing in the background. I am happy I took up wrestling which has made me who I am today. 
GS: I took up boxing at a very young age, and fell in love with it. Sport has taught me to work hard, get out of my comfort zone and settle for nothing less than the best in life! Winning a medal for India at the Commonwealth Youth Games was such a big honour; now I want to go to a bigger stage and win medals for India at the CWG, Asians and the Olympic Games.
MG: Sports has changed me in a very positive way. It has made me mentally strong, teaching me to accept failures and fight back, again and again.
AC: Sports has made me fit — mentally and physically. It has taught me that you have to take you highs and lows in your stride and just never give up! Competition is always good as it helps me strive harder and better myself.