Cathedral retains the Girls U-12 Div I Trophy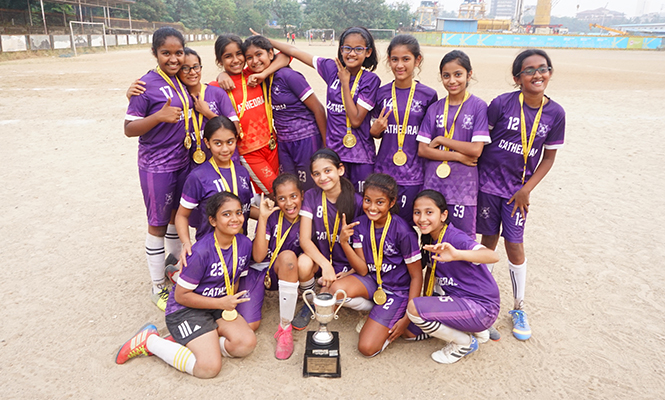 The Mumbai School Sports Association was started by Sir Dorabji Jamshedji Tata way back in 1893, in association with a few principals of some schools. The main objective of this association was to promote physical fitness and discipline by organizing sports athletic events regularly and encouraging the participation of thousands of school going students. The association has completed 126 years of rendering active sports and games participation, offering 20 different sports among the age group of 6 years to 16 years. The activities by this prestigious institution includes some top names like Tata Athletic Shield(1893), Harris Shield(1896), Giles Shield(1901) for Cricket & Junior Aga Khan(1901) for Hockey.
The various games involved in the athletics tournaments conducted by MSSA include Aquatics, Athletics, Badminton, Basketball, Boxing, Cricket, Football, Handball, Hockey, Gymnastics, Judo, Lawn Tennis, Squash, Table Tennis, Throwball and Volleyball, wherein around sixty thousand students participate annually. Harris Shield and Giles Shield organised by MSSA has provided a platform to produce more than 60 living test cricketers of Mumbai. MSSA has also been responsible for developing some stellar athletes who have represented our country in the Asian Games, Commonwealth Games, and at the Olympics.
MSSA Inter-School Girls U-12 Div I Football Final: A brilliant performance by Kimaya Apte helped Cathedral and John Connon retain the trophy taking Cathedral to a 3-0 win. The exceptional performance helped the team maintain the lead from the beginning and not giving in  a single point.  
Venue: MSSA Ground, Azad Maidan
Name: Nishi Doshi
Team: Rustomjee Cambridge International School, Dahisar U-12 Div I
Position: Striker
Date: 19th November 2019
Why did you choose Football and when did you start training for it?
I took up football because my sister challenged me and have been playing football for the last three years. 
2. Which was your best playing moment?
My most memorable playing moment, undoubtedly, was the match where I scored a hattrick against  Dhirubhai Ambani International School, Bandra! 
Quote: '' It gives me immense pleasure to represent Rustomjee Cambridge International School, Dahisar. Little disappointed about losing the match, but all the school teachers have supported us a lot and that's what matters!'' —  Nishi Doshi
Name: Kimaya Apte
Team: Cathedral & John Connon High School, Fort U-12 Div I
Position: Striker
Why did you choose Football and when did you start training for it?
It's been 2 years since I started playing football in school and I thoroughly enjoy the sport. In fact I also play  competitive tennis at AITA level  and just like my idol Rafael Nadal , I enjoy both the games immensely
2. Which was your best playing moment?
When I got the Golden Boot award and Player of the Year award in the Anglo Scottish held in Pune earlier this year! Best moment ever!
Quote: " I scored three goals today & we won 3-0! It was a very proud moment for me that my performance could help my team win. We were the defending champions & we are very happy to retain the trophy!"
Mumbai School Sports Association has definitely played a major role in promotion of athletics at grassroot level, mainly involving students in the age group of 6 to 16 years. It has also set a benchmark for the athletic events and tournaments conducted across various locations in Mumbai and thereby providing a pathway to national level athletics for various aspiring athletes. The Mumbai School Sports Association has been organising some of the tournaments for over a century such as following :-
114th Tata Shield for Inter School Athletic Meet since 1893
111th Harris Shiel Cricket Tournament since 1896
106th Giles Shield Cricket Tournament since 1901
106th Junior Aga Khan for Hockey since 1901
MSSA has completed 126 years in fostering young talents and has also went on to become on of the most prestigious grassroot level leagues, proving to be one of the most promising platforms for young budding players to develop their talent in sports.
KheloMore endeavours to support MSSA in this noble initiative and has thereby been encouraging the outstanding players across various tournaments to spread their word and inspire more young talents to go a step head in pursuing their passion for sports. Training plays a major role in not only honing the skills of a sportsperson but also developing the player emotionally. KheloMore provides a platform to bring the best athletics coaching academies and coaches in Mumbai under a single umbrella. The motive here is to remove all the hustle and confusion in selecting the sports academies and making it extremely convenient for a parent or child to find the best athletics coaching academies according to their needs and location convenience.