India are staring down the barrel at the end of 3rd day of test match.
India are staring down the barrel at the end of 3rd day of test match after a brilliant all round performance by Australia with the ball and in the field!
In this review, I will talk about a few crucial links in the test match – Cummins, Vihari, Australia's short pitched strategy and Pujara.
Let's kick things off with a man who has consistently shown his class with ball in hand. What a treat Pat Cummins is to watch! He has single handedly catapulted Australia into a position of dominance. Yesterday, we saw that once Sharma and Gill had settled down, Cummins changed his plan. He started focusing on the incoming ball and hit the deck hard with it. He was trying to see if more force and impact on pitching will provoke some life from this pitch and it worked superbly. He then came back and hit Pant on the elbow with a bouncer. He's a captain's dream! As a captain, when you look at a bowler in any position, you  want him to always want the ball! Cummins wants to be part of the action, whatever the situation. He wants to impact the game for his team.
He is the number 1 bowler in the world, make no mistake about that!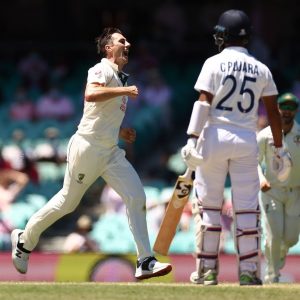 The Australians came out with a plan today. Paine uses Starc in two modes. He is tasked with swinging the ball back in with the new ball, and is then used to intimidate once the ball becomes older. He did that today and has injured Jadeja which is a big worry for India. Starc bowls two lengths with the oldish ball, it's either short and aimed at your head or its yorker length. India needs to come up with a plan to counter this short pitched attack in the 2nd innings.
One man who now finds himself under a bit of pressure is Hanuma Vihari. When you are playing as a pure batsman in the team, you have to pull your weight. Vihari has struggled to do that and today his self inflicted run out will not go down well with the team management. I've been an admirer of Vihari over the years, having seen him go through the domestic grind. However, he needs to make sure he makes full use of these opportunities.
Pujara hit his first boundary off the 100th ball. This defensive approach can be counter productive. You stall not only yourself but your batting partner as well. Test matches are not won by batting more balls, they are won by scoring more runs! Pujara is a world class batsman and a thorough team man, I am certain he is constantly reflecting on his own game. India will want him to be more aggressive in the second innings.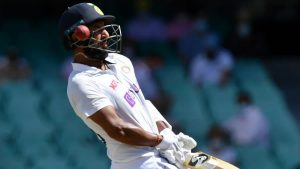 India will be disappointed with their batting effort. 3 run outs and starts from Sharma, Gill, Pant and Pujara which were not converted will be the deciding factor in the test match. To me, two dismissals are crucial – Rohit Sharma and Pant. India will pay dearly for these.
Day 4 will be a tough day at the office for India. Australia will look to bat atleast another couple of sessions and set India a target in the range of 400. Labuschagne and Smith are on song and India will want Jadeja back on the pitch fit to bowl. If he bowls tomorrow then India have a chance, else I think it's going to be an uphill battle. Ashwin too is missing Jadeja at the other end. Like a batting partnership is important, a bowling partnership too is very important. Ashwin bowls best when he has experience and control at the other.
Read more – Day 2 review