Dashrath Chavan Maiden Century ensures 113 runs win for A L Barkaat MMI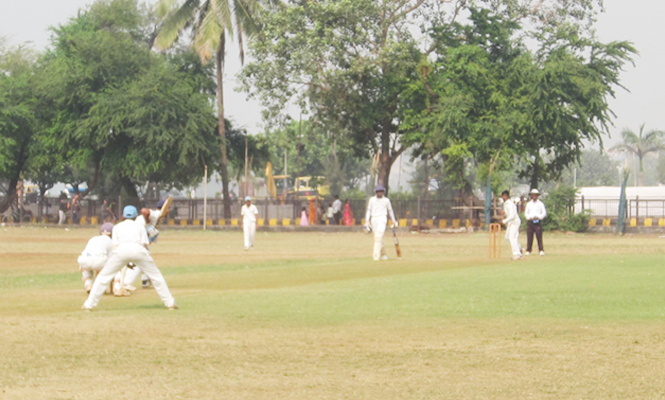 Harris Shield, 4th round
U-16 Boys.
AL Barkaat MMI (Kurla) Vs IES (Bandra)
Venue
: Parsee Gymkhana, Mumbai 
Electing to bat first, opener Nisar Shaikh took control early on. While Ankit Yadav fell for 5 and next batsman, Harshvardhan Pandey could only muster 8 runs., Nisar Shaikh with his well made 42, managed a field day with Dashrath Chavan, growing with each ball. Dashrath seemed to be in cruise control, managing singles and well placed boundaries to keep scoreboard ticking. After Saumil Malandkar fell for 13, and Atharva got out for a golden duck to legs spinner Aryan Desai, Dashrath had the unenviable job of steadying the ship, with A L Barkaat reeling at 95-5 after 20 overs. The run rate dropped in subsequent overs amid good bowling spell by Shubham Kharat and Aryan Desai. Slowly and steadily, Dashrath toiled and kept going. Scoreboard reflected 140/5 after 30 overs and with  Dashrath quickly approaching half century. He reached his maiden century in the final over of innings to power the team to 245. The target seemed, and ultimately proved, too good for Bandra Outfit. With determined bowling and crisp fielding, IES were contained well in early overs. Anurag Nayar scored 46 but was unable to drag them to the mammoth total. Saud Mansoori took 3 wickets for 47 and kept things tight between the wickets. At the end of 45 overs, Bandra Outfit could only manage 132/6, 113 short of target.
Brief Scores: Al Baarkat MMI Kurla : 245/7 (45 overs)(Dashrath Chavan 101*, Nisar Shaikh 42, Aryan Desai 3/52) IES Bandra : 132/6 (45 overs) Anurag Nayar 48*, Saud Mansoori 3/47).
Toss: A L Barkaat MMI elected to bat.
Umpires: Jayant Javakr, Uday Raul.
Captains: Harsh M.(A L Barkaat MMI Kurla) , Palash Pawar (IES Bandra).