Football – The Way Of Life
Football is just not a sport for some; it's a religion, it's a way of life, and for others, it is a major source of entertainment. But whatever it is; football never stops giving out some very important life lessons and help discipline a youngster. Don't believe us? Read on!
"To Compete" Playing football opposite different teams always enhances the sense of competition in children. Competition is a very important aspect of life and playing football helps children understand that very well.
"To Work Hard" There is no shortcut to success, neither does it come over night. Working hard and measuring your progress becomes essential when you play any sport. Same with football.
"How to Follow/Lead" Football is a team game and team games come with a set of rules – play as one unit; your success and loss is as a unit and not individual. Every player has a role within the team and it is best to accept each one for it. No one's above the team; no one's above the game. This lesson helps kids learn to be a team player in life.
"To be Accountable" The position you play for in the team is something that you are accountable for and that becomes your area of expertise. Be responsible enough to take charge and accept your faults when you have made one.
"Discipline & Sacrifice" The lifestyle on the whole; the food habits, sleeping cycle, the designated time for study and play, all get regulated with the regular practice of the sport. Sacrificing of smaller, unimportant goals, for the bigger ones becomes ingrained in the children, making them responsible adults in the future.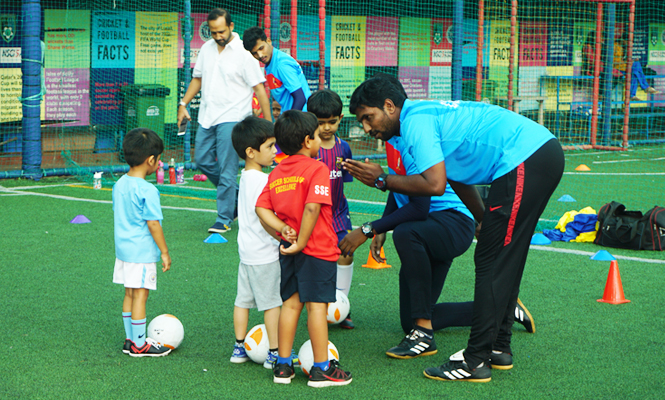 KheloMore introduces Soccer Schools of Excellence (SSE) is a football training school for kids from the ages of 2.5 to 15 years in Mumbai since 2010.
SSE is accredited by the All India Football Association, Western India Football Association and associated with the Mumbai District Football Association.
In training sessions, kids are encouraged to have many touches on the ball, encouraged to be creative and allow the game to be the best teacher. The SSE Curriculum also equips the coaches with advanced training methods when players start playing more competitively.
This shall be the Pathway to your child's progress
The Soccer School Of Excellence Pathway:-
Under 3 – Foundation years
Under 5 – Foundation years
Under 6 – Foundation years
Under 8 – Foundation years + Development Teams
Under10 – Development Teams
Under12 – Development Teams
Under13 – Elite Teams
Under15 – Elite Teams
From the U8s to the U12s, we introduce our players to play lots of matches in the season. Players in these age groups experience their first involvement in competitions where the focus is solely on game and character development and not winning. Players selected into the 'Development Teams' play approximately 20 to 25 matches in various competitions every year in addition to their weekly training.
Selected players into the 'Elite Teams' enter into District, State and National tournaments like the Youth I – League. Players in these teams progress to play close to 40 competitive 11-A-Side football matches in the year.
All Batches Include: 
We are also running an exclusive Soccer School of excellence Festive Offer: –
Flat 10% off on select batches
*offer valid till 25th Oct 2018*
Use Code – KMFS10
To avail the offer click on the link below:
Soccer Schools Of Excellence at Astro Park, St. Stanislaus High School, Bandra
Soccer Schools of Excellence at NSCI, Worli
Soccer Schools of Excellence atPDP, Nepeansea Road